We found the local Dog Guard dealer serving your area.
Smoky Mountain Dog Guard
Website: http://www.ashevillek9.com
Phone: (828) 318-2087
Email: eddie-k9@att.net
Owner: Saylor, Eddie
45 Laurel Way W, Horseshoe, NC 28742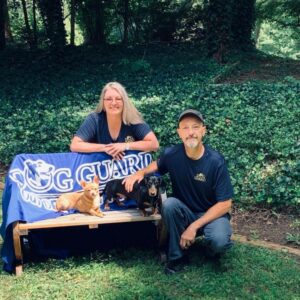 Welcome to Smoky Mountain Dog Guard. I am Eddie Saylor, an authorized dealer of Dog Guard, which serves most of Western North Carolina. I partnered with Dog Guard in 2010 and have continued to serve customers throughout the area. Prior to becoming a Dog Guard dealer, I worked a decade with a leading underground fence competitor.
I have a passion for pets and their safety and feel God called me to do this as a career. I have complete confidence in Dog Guard products. I believe in honesty and enjoy bringing peace of mind to pet owners. Customer satisfaction is my number one priority. Together we can make a difference in our pets' lives. My wife and I have two daughters, three grandchildren and two dogs. I hope you will allow me to bring that peace of mind to you when it comes to your pet's safety.
God Bless,
Eddie Saylor, Fletcher, N.C.
Contact Us
Serving the following areas:
Avery County, NC
Buncombe County, NC
Cherokee County, NC
Clay County, NC
Graham County, NC
Haywood County, NC
Henderson County, NC
Jackson County, NC
McDowell County, NC
Macon County, NC
Madison County, NC
Mitchell County, NC
Polk County, NC
Rutherford County, NC
Swain County, NC
Transylvania County, NC
Yancey County, NC
Anderson County, TN
Blount County, TN
Cocke County, TN
Grainger County, TN
Greene County, TN
Hamblen County, TN
Hawkins County, TN
Jefferson County, TN
Knox County, TN
Loudon County, TN
Roane County, TN
Sevier County, TN
Unicoi County, TN
Union County, TN