We found the local Dog Guard dealer serving your area.
Alabama Dog Guard
Website: https://www.alabamadogguard.com
Phone: (205) 444-3644
Email: info@alabamadogguard.com
Owner: Webster, David
PO Box 661553, Birmingham, AL 35266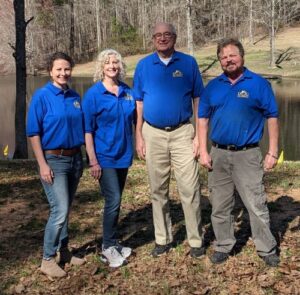 David and Beth Webster have been the Dog Guard dealer for the Birmingham, north-central Alabama area since 2003. In that time, David has trained hundreds of dogs of all breeds to the Dog Guard pet containment system. They range from two to well over a hundred pounds and from four months to many years in age.
Faith, family, and friends have been basic touchstones for David and Beth since they met at Samford University and married shortly after graduation. They invite you to join the Dog Guard "family" experience.
Contact Us
Serving the following areas:
Autauga County, AL
Bibb County, AL
Blount County, AL
Calhoun County, AL
Chambers County, AL
Cherokee County, AL
Chilton County, AL
Clay County, AL
Cleburne County, AL
Colbert County, AL
Coosa County, AL
Cullman County, AL
DeKalb County, AL
Elmore County, AL
Etowah County, AL
Fayette County, AL
Franklin County, AL
Jackson County, AL
Jefferson County, AL
Lamar County, AL
Lauderdale County, AL
Lawrence County, AL
Lee County, AL
Limestone County, AL
Lowndes County, AL
Macon County, AL
Madison County, AL
Marion County, AL
Marshall County, AL
Montgomery County, AL
Morgan County, AL
Pickens County, AL
Randolph County, AL
St. Clair County, AL
Shelby County, AL
Talladega County, AL
Tallapoosa County, AL
Tuscaloosa County, AL
Walker County, AL
Winston County, AL