We found the local Dog Guard dealer serving your area.
Dog Guard of Central PA
Website: https://www.dogguardcentralpa.com/
Phone: (717) 994-1670
Email: ervin@dogguardcentralpa.com
Owner: Zook, Ervin
Millerstown, PA 17062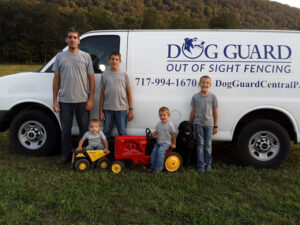 Welcome to Dog Guard Of Central PA , I am Ervin Zook owner, authorized dealer and installer for Dog Guard out of sight fencing and serve central PA and surrounding counties: Bedford, Blair, Cambria, Centre, Clearfield, Fulton, Huntingdon, Indiana, Juniata, Mifflin and Somerset Counties.
We use reliable, Dog Guard products backed with a warranty and designed and assembled in the U.S.A. With each new installation we provide training to make sure your pet is safely contained and you are confident in the system.
Please give us a call and let us solve your pet-containment challenges.
Contact Us
Serving the following areas:
Allegany County, MD
Garrett County, MD
Bedford County, PA
Berks County, PA
Blair County, PA
Bradford County, PA
Carbon County, PA
Centre County, PA
Chester County, PA
Clinton County, PA
Columbia County, PA
Fulton County, PA
Huntingdon County, PA
Juniata County, PA
Lackawanna County, PA
Lancaster County, PA
Lehigh County, PA
Luzerne County, PA
Lycoming County, PA
Mifflin County, PA
Monroe County, PA
Montgomery County, PA
Montour County, PA
Northampton County, PA
Northumberland County, PA
Perry County, PA
Pike County, PA
Schuylkill County, PA
Snyder County, PA
Sullivan County, PA
Susquehanna County, PA
Tioga County, PA
Union County, PA
Wayne County, PA
Wyoming County, PA