We found the local Dog Guard dealer serving your area.
Dog Guard of Eastern NC
Website: https://www.dogguardnc.com/
Phone: (919) 781-1213
Email: team@dogguardnc.com
Owner: Ferguson, John & Sherri
P.O. 659, Creedmoor, NC 27522 (Wake County)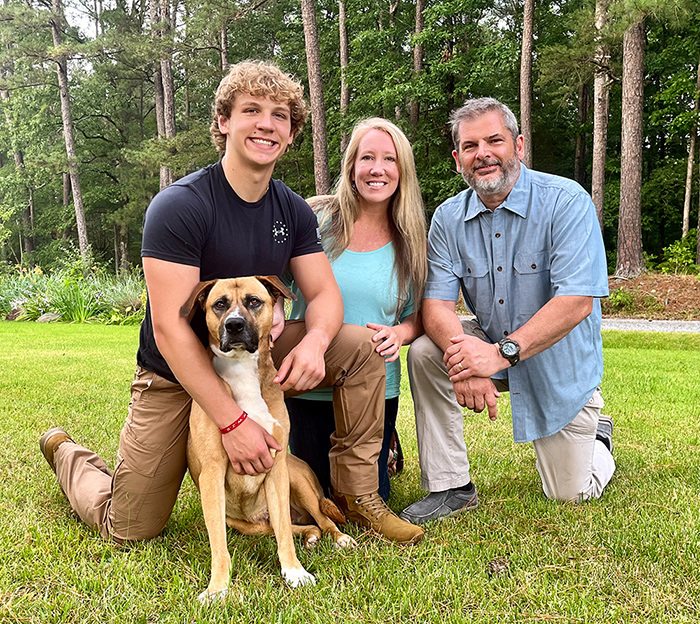 Welcome to Dog Guard of Eastern North Carolina. We are John & Sherri Ferguson, owners of Raleigh-based Dog Guard of Eastern North Carolina. Our business has been serving the pets of Central and Eastern North Carolina since 1997. We are proud to be successfully containing over 4,000 dogs with our fencing.
I personally understand that your dog is more than just a pet – it is a member of your family – like our dog Duke. That is why we provide your dog with the freedom he/she deserves through an underground electronic fence and you with the peace of mind of knowing that your dog is safely contained!
Our success is driven by our focus on providing a superior underground fence installation, unsurpassed customer service, and most importantly, safely contained pets. The majority of our business comes from referrals from existing customers proving how satisfied our customers are with Dog Guard equipment and our installations. Our products and services are competitively priced and and are a value for the superior fence equipment and installations that we provide. Our 20+ successful years in Eastern North Carolina business prove it!
Contact Us
Serving the following areas:
Alamance County, NC
Carteret County, NC
Caswell County, NC
Chatham County, NC
Craven County, NC
Cumberland County, NC
Duplin County, NC
Durham County, NC
Edgecombe County, NC
Franklin County, NC
Granville County, NC
Greene County, NC
Halifax County, NC
Harnett County, NC
Johnston County, NC
Jones County, NC
Lee County, NC
Lenoir County, NC
Moore County, NC
Nash County, NC
Onslow County, NC
Orange County, NC
Pamlico County, NC
Pender County, NC
Person County, NC
Pitt County, NC
Sampson County, NC
Vance County, NC
Wake County, NC
Warren County, NC
Wayne County, NC
Wilson County, NC