We found the local Dog Guard dealer serving your area.
Dog Guard North Texas
Website: https://www.dogguardfw.com
Phone: (682) 270-9612
Email: info@dogguardfw.com
Owner: Morden, Gene
6800 County Road 527, Burleson, TX 76028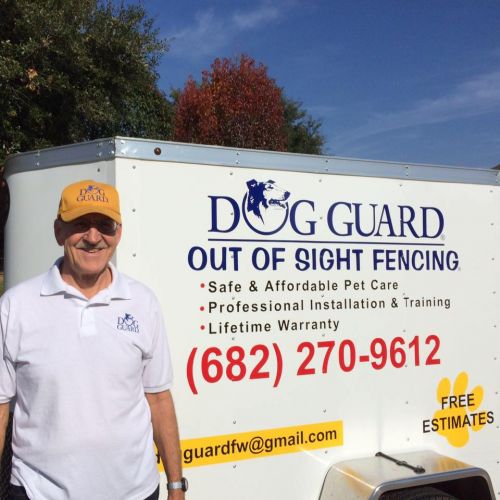 We are Gene and Melba Morden, owners of Dog Guard North Texas. We are proud to be your Dog Guard Out of Sight Fencing dealers.
Prior to buying a Dog Guard dealership, we ministered to the Turkana people of Kenya for 20 years, where we trained and led a team of 30 Kenya nationals in drilling shallow, clean water wells and establishing irrigated farming systems for more than 500 families.
We love all pets and have always owned dogs. Our friends, Angie and Scott Wescott, who are likewise Dog Guard dealers, introduced us to Dog Guard and convinced us we could continue serving people by providing them with the highest quality pet-containment systems in the US.
Dog Guard North Texas is truly a family-owned and operated dealership. Our children, Joshua and Tammy Pietrok, who have been sales managers with a national retailer are also part of our sales team. Like us, they know firsthand the quality and value of the Dog Guard product; after installing a system in their own home they enjoyed the peace of mind that comes from knowing their dogs, Oatmeal and Lilly were safe and would not wander off or enter off-limit rooms in their home or destroy their manicured landscape!
We look forward to customizing a Dog Guard Out of Sight Fencing system for you and your precious dogs and cats and know you will be thrilled with the outcome!
Call us today to schedule an appointment!
Contact Us
Serving the following areas:
Anderson County, TX
Bosque County, TX
Bowie County, TX
Camp County, TX
Cass County, TX
Cherokee County, TX
Clay County, TX
Collin County, TX
Cooke County, TX
Dallas County, TX
Delta County, TX
Denton County, TX
Ellis County, TX
Erath County, TX
Fannin County, TX
Franklin County, TX
Freestone County, TX
Grayson County, TX
Gregg County, TX
Harrison County, TX
Henderson County, TX
Hill County, TX
Hood County, TX
Hopkins County, TX
Hunt County, TX
Jack County, TX
Johnson County, TX
Kaufman County, TX
Lamar County, TX
Limestone County, TX
McLennan County, TX
Marion County, TX
Montague County, TX
Morris County, TX
Navarro County, TX
Panola County, TX
Parker County, TX
Rains County, TX
Red River County, TX
Rockwall County, TX
Rusk County, TX
Smith County, TX
Somervell County, TX
Tarrant County, TX
Titus County, TX
Upshur County, TX
Van Zandt County, TX
Wise County, TX
Wood County, TX