We found the local Dog Guard dealer serving your area.
Dog Guard of Illiana - Falcon Equipment and Supply Company LLC
Website: https://www.dogguardofilliana.com
Phone: (217) 582-2299
Email: info@dogguardofilliana.com
Owner: Knoop, Mattheus & Paganin, Lucinda
PO Box 214, Ogden, IL 61859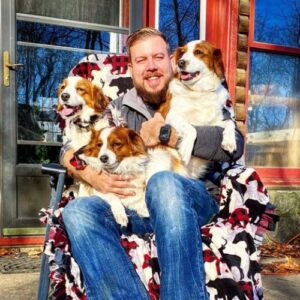 Matt and Lucinda are a brother-sister team who love their dogs very much. Living in the country is great because there's plenty of space for your pet to roam, but the danger of your dog wandering where it might be hit or injured is still very real. That's where a Dog Guard fence comes in - giving you peace of mind knowing that your dog is safely contained, while letting it have the freedom to run! After all, a dog is not just a pet… it is part of your family. That's why Dog Guard of Illiana only offers the highest quality underground fencing designed and assembled in the USA.
Contact Us
Serving the following areas:
Champaign County, IL
Clark County, IL
Coles County, IL
Cumberland County, IL
De Witt County, IL
Douglas County, IL
Edgar County, IL
Edwards County, IL
Ford County, IL
Iroquois County, IL
Moultrie County, IL
Piatt County, IL
Vermilion County, IL
Wabash County, IL
White County, IL
Benton County, IN
Carroll County, IN
Clay County, IN
Clinton County, IN
Crawford County, IN
Daviess County, IN
Dearborn County, IN
Dubois County, IN
Fountain County, IN
Gibson County, IN
Greene County, IN
Harrison County, IN
Jefferson County, IN
Jennings County, IN
Knox County, IN
Lawrence County, IN
Martin County, IN
Montgomery County, IN
Ohio County, IN
Orange County, IN
Owen County, IN
Parke County, IN
Perry County, IN
Pike County, IN
Posey County, IN
Putnam County, IN
Ripley County, IN
Scott County, IN
Spencer County, IN
Sullivan County, IN
Switzerland County, IN
Tippecanoe County, IN
Vanderburgh County, IN
Vermillion County, IN
Vigo County, IN
Warren County, IN
Warrick County, IN
Washington County, IN
White County, IN