We found the local Dog Guard dealer serving your area.
Dog Guard Kansas City
Website: https://www.dogguardmidwest.com
Phone: (913) 203-1279
Email: sales@dogguardmidwest.com
Owner: Westcott, Angie & Scott
Kansas City, MO 64106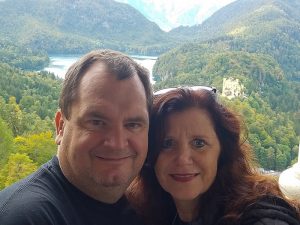 Welcome to Dog Guard of Kansas City. Scott and Angie Westcott have been dealers since 2009 and service locations in Missouri, Kansas, Iowa, Nebraska, and Illinois. Because of their successful pattern and customer satisfaction, they have grown to be one of the top dealers in the company. As a result, they have been asked to train and support all new dealers to ensure their success.
Scott and Angie enjoy the sales and problem-solving process involved in setting pets and their owners free!
Scott and Angie Westcott have three adult children and have been married for 30 years. They both had successful careers in corporate America, but had always wanted to operate their own business. They had been looking for quite some time for a business that suited both of their skill sets. Scott likes to problem solve and fix things and Angie's strength is in sales. The pair enjoys working with people and pets. When Dog Guard came along, they felt it was the perfect fit. It was very important to both of them to represent a high quality product that they were proud of and could stand behind. Dog Guard met all of their requirements and then some.
Please call us for more information about how a Dog Guard Out of Sight Fencing system can solve your pet-containment challenges or to schedule an appointment.
Contact Us
Serving the following areas:
Atchison County, KS
Brown County, KS
Doniphan County, KS
Douglas County, KS
Jefferson County, KS
Johnson County, KS
Leavenworth County, KS
Wyandotte County, KS
Andrew County, MO
Atchison County, MO
Buchanan County, MO
Caldwell County, MO
Cass County, MO
Clay County, MO
Clinton County, MO
Daviess County, MO
DeKalb County, MO
Gentry County, MO
Harrison County, MO
Holt County, MO
Jackson County, MO
Nodaway County, MO
Platte County, MO
Ray County, MO
Worth County, MO