We found the local Dog Guard dealer serving your area.
Dog Guard of NE Indiana
Website: https://www.dogguardpetfencing.com
Phone: (260) 494-9268
Email: info@guardyourpet.com
Owner: Rexroth, Scott
7525 Maplecrest Rd. #215, Fort Wayne, IN 46835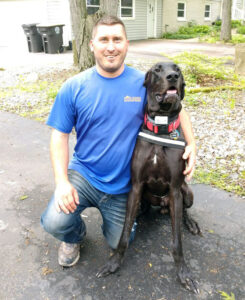 Hello, I'm Scott Rexroth, the owner and operator of Dog Guard of Northeast Indiana. We offer top-of-the-line Dog Guard Out of Sight Fencing pet products. Dog Guard has been in business for over 25 years and proudly manufactures products exclusively made in the USA, with a lifetime warranty.
I started with Dog Guard because of the quality of its products, the lifetime warranty and the commitment to customer service from the corporate office to the dealer. Our goal is to keep your pets safe and each owner happy.
I have one Shih Tzu myself (Parker), who was adopted from the SPCA and has been a great addition to our family. That is one of the reasons that got me started with Dog Guard. After looking into pet fences and what the other companies offered, I thought that there had to be a better product out there. And sure enough there was, just not in my area. That's when the idea hit me to join the Dog Guard family.
Prior to becoming a Dog Guard dealer, I received a degree in Business Management and had always wanted to own my own company. After working in retail for many years and seeing what an impact great customer service had on people, I knew that my dream of business ownership would become a reality.
I love meeting new people and their pets and spending time with them to make sure that we get each fence project customized to each homeowner. That level of personal service is what sets Dog Guard of NE Indiana apart from the competition. Not only do we use better products and superior wire, we offer that extra level of personal service and quality pet training. Proper training for your pet with its new pet fence guarantees a happy and successful outcome.
If you are looking for an answer to pets running loose or just want them to have more freedom and exercise, then you have found the right solution!
Call for more information or to schedule an appointment today!
Contact Us
Serving the following areas:
Adams County, IN
Allen County, IN
Cass County, IN
DeKalb County, IN
Fulton County, IN
Howard County, IN
Huntington County, IN
Miami County, IN
Noble County, IN
Pulaski County, IN
Steuben County, IN
Wabash County, IN
Wells County, IN
Whitley County, IN
Branch County, MI
Hillsdale County, MI
Lenawee County, MI
Monroe County, MI
Defiance County, OH
Fulton County, OH
Henry County, OH
Paulding County, OH
Putnam County, OH
Van Wert County, OH
Williams County, OH