We found the local Dog Guard dealer serving your area.
Dog Guard of Louisiana
Website: https://www.dogguardsola.com
Phone: (985) 859-0301
Email: aaronrobinson1962@gmail.com
Owner: Robinson, Aaron
536 Hwy 308, Thibodaux, LA 70301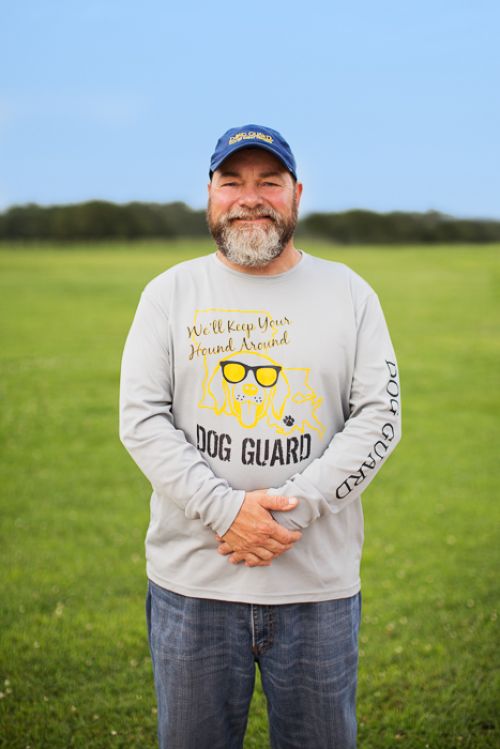 Welcome to Dog Guard of Louisiana. I am Aaron Robinson, owner of Dog Guard of Louisiana, which services all of Louisiana and Eastern Texas. Our Main Office is located in Thibodaux, LA. We also have branches in Layfayette, Baton Rouge and Covington, Louisiana.
We became dealers in 2007 and operate as a full-time pet containment company, ready to serve you and protect your pet.
I grew up on a farm and always had a love for animals. My background prior to becoming a Dog Guard Out of Sight Fencing dealer included a number of years working in electrical and technical fields. That experience, combined with just as many years doing horse-training, dog-training and working livestock and dog shows make me a pretty well-rounded Dog Guard dealer. I am designated "PRO LEVEL" by the IACP international Assn. Canine Professionals as well as a member of the ASPCA.
The Dog Guard system allows me to help dogs enjoy their freedom and dog owners enjoy a happy dog. Remember, you will have several dogs throughout your lifetime but you are the only master your dog will have in its lifetime. Make it a happy one for everyone! I hear over and over again from many of my customers that this is the best thing they ever purchased and that their dogs are happy and safe. (See my Testimonial Page).
We are better than our competitors because we provide the best, reliable pet containment systems on the market. Dog Guard systems are veterinarian approved, made in the U.S.A. and backed by a warranty.
Here at Dog Guard of Louisiana we take pride in our dependable service, and are always there for you, even after the sale! We have a no charge for service for 30 days after install for any reason, as we are committed to ensuring that you, your pet and our system are all working in harmony to keep your pet safe. We offer free estimates and we do have the best systems on the market. Dog Guard out performs all the others!
Call Aaron and he can explain how and why!
(888) 533-3623 (Toll Free)
(337) 362-4364 (Southwest Louisiana)
(985) 859-0301 (Southeast Louisiana)
(318) 202-2422 (North Louisiana)
Contact Us
Serving the following areas:
Acadia Parish, LA
Allen Parish, LA
Ascension Parish, LA
Assumption Parish, LA
Avoyelles Parish, LA
Beauregard Parish, LA
Bienville Parish, LA
Bossier Parish, LA
Caddo Parish, LA
Calcasieu Parish, LA
Caldwell Parish, LA
Cameron Parish, LA
Catahoula Parish, LA
Claiborne Parish, LA
Concordia Parish, LA
De Soto Parish, LA
East Baton Rouge Parish, LA
East Carroll Parish, LA
East Feliciana Parish, LA
Evangeline Parish, LA
Franklin Parish, LA
Grant Parish, LA
Iberia Parish, LA
Iberville Parish, LA
Jackson Parish, LA
Jefferson Parish, LA
Jefferson Davis Parish, LA
Lafayette Parish, LA
Lafourche Parish, LA
LaSalle Parish, LA
Lincoln Parish, LA
Livingston Parish, LA
Madison Parish, LA
Morehouse Parish, LA
Natchitoches Parish, LA
Orleans Parish, LA
Ouachita Parish, LA
Plaquemines Parish, LA
Pointe Coupee Parish, LA
Rapides Parish, LA
Red River Parish, LA
Richland Parish, LA
Sabine Parish, LA
St. Bernard Parish, LA
St. Charles Parish, LA
St. Helena Parish, LA
St. James Parish, LA
St. John the Baptist Parish, LA
St. Landry Parish, LA
St. Martin Parish, LA
St. Mary Parish, LA
St. Tammany Parish, LA
Tangipahoa Parish, LA
Tensas Parish, LA
Terrebonne Parish, LA
Union Parish, LA
Vermilion Parish, LA
Vernon Parish, LA
Washington Parish, LA
Webster Parish, LA
West Baton Rouge Parish, LA
West Carroll Parish, LA
West Feliciana Parish, LA
Winn Parish, LA
Adams County, MS
Amite County, MS
Claiborne County, MS
Copiah County, MS
Covington County, MS
Forrest County, MS
Franklin County, MS
George County, MS
Greene County, MS
Hancock County, MS
Harrison County, MS
Hinds County, MS
Issaquena County, MS
Jackson County, MS
Jefferson County, MS
Jefferson Davis County, MS
Lamar County, MS
Lawrence County, MS
Lincoln County, MS
Madison County, MS
Marion County, MS
Pearl River County, MS
Perry County, MS
Pike County, MS
Rankin County, MS
Sharkey County, MS
Simpson County, MS
Stone County, MS
Walthall County, MS
Warren County, MS
Wilkinson County, MS
Yazoo County, MS