We found the local Dog Guard dealer serving your area.
Dog Guard of Virginia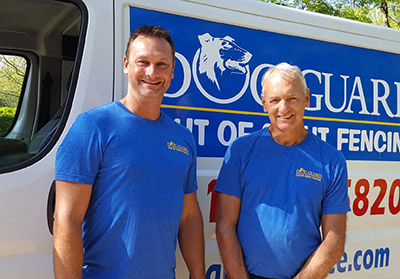 Website: https://www.dogguardva.com
Phone: (804) 424-0517
Email: gary@dogguardva.com
Owner: Agate, Gary
Henrico, VA
Financing Available
Welcome to Dog Guard of Virginia. Hello, my name is Gary Agate and I started with Dog Guard in 2016 and have been installing fences and keeping dogs safe since that time. Giving my customers the peace of mind to let their dog run the property without tying them up is very rewarding to me, and I feel that the customer service that I provide is second to none.
Contact Us
Serving the following areas:
Amelia County, VA
Appomattox County, VA
Buckingham County, VA
Campbell County, VA
Caroline County, VA
Charles City County, VA
Charlotte County, VA
Chesterfield County, VA
Culpeper County, VA
Cumberland County, VA
Dinwiddie County, VA
Essex County, VA
Fluvanna County, VA
Gloucester County, VA
Goochland County, VA
Halifax County, VA
Hanover County, VA
Henrico County, VA
James City County, VA
King and Queen County, VA
King George County, VA
King William County, VA
Lancaster County, VA
Louisa County, VA
Lunenburg County, VA
Mathews County, VA
Middlesex County, VA
New Kent County, VA
Northumberland County, VA
Nottoway County, VA
Orange County, VA
Powhatan County, VA
Prince Edward County, VA
Prince George County, VA
Richmond County, VA
Spotsylvania County, VA
Stafford County, VA
Surry County, VA
Sussex County, VA
Westmoreland County, VA
York County, VA
Colonial Heights city, VA
Fredericksburg city, VA
Hampton city, VA
Hopewell city, VA
Newport News city, VA
Petersburg city, VA
Poquoson city, VA
Richmond city, VA