We found the local Dog Guard dealer serving your area.
Dog Guard of Ohio
Website: https://www.dogguard-ohio.com
Phone: (330) 421-0986
Email: info@dogguard-ohio.com
Owner: Cottingham, Heather
196 Westview Ave., Wadsworth, OH 44281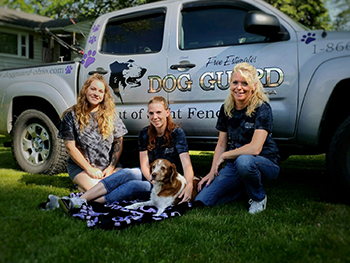 Welcome to Dog Guard of Ohio. My name is Heather Cottingham, as the owner and authorized dealer of Dog Guard Out of Sight Fencing, I have been servicing Ohio for 20 years. I understand that your dog is more than a pet – it is a member of your family. I take pride in the quality and service I offer my customers, and will work with you to customize your pet fencing system to fit the needs of you and your pet.
Your dog deserves the freedom and joy of a yard to run and play in and you deserve the peace of mind knowing your dog is safely contained in your yard.
Dog Guard is a veterinarian tested, approved and recommended system that has safely protected pets for over 30 years. Dog Guard is known for the high quality and reliability of our American-made products, and for the unparalleled customer service that is included with every sale.
With our unparalleled dealer support, superior hands-on training and the Dog Guard limited lifetime equipment guarantee, you and your pet can enjoy the benefits of a Dog Guard Out-of-Sight Fencing System for years to come!
Contact Us
Serving the following areas:
Ashland County, OH
Carroll County, OH
Columbiana County, OH
Coshocton County, OH
Crawford County, OH
Cuyahoga County, OH
Erie County, OH
Geauga County, OH
Hancock County, OH
Holmes County, OH
Huron County, OH
Lake County, OH
Lorain County, OH
Lucas County, OH
Mahoning County, OH
Medina County, OH
Ottawa County, OH
Portage County, OH
Richland County, OH
Sandusky County, OH
Seneca County, OH
Stark County, OH
Summit County, OH
Trumbull County, OH
Tuscarawas County, OH
Wayne County, OH
Wood County, OH
Wyandot County, OH