We found the local Dog Guard dealer serving your area.
Dog Guard West Virginia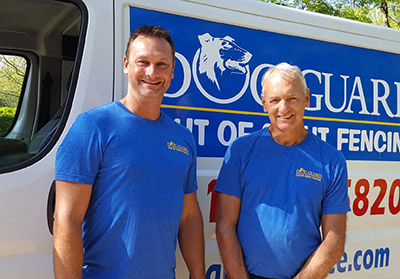 Website: https://www.pghdogfence.com/
Phone: (724) 980-3344
Email: gary@pghdogfence.com
Owner: Agate, Gary

Financing Available
Welcome to Dog Guard of Greater Pittsburgh. We serve Eastern Ohio and West Virginia in addition to all of Western Pennsylvania. My name is Gary Agate. I live in Pittsburgh, I started with Dog Guard in 2016 have worked to keep thousands of dogs safe and provide peace of mind to their owners. Giving my customers the peace of mind to let their dog run the property without tying them up is very rewarding to me, and I feel that the customer service that I provide is second to none.
Contact Us
Serving the following areas:
Belmont County, OH
Guernsey County, OH
Harrison County, OH
Jefferson County, OH
Monroe County, OH
Noble County, OH
Washington County, OH
Brooke County, WV
Hancock County, WV
Marion County, WV
Marshall County, WV
Monongalia County, WV
Ohio County, WV
Pleasants County, WV
Preston County, WV
Tyler County, WV
Wetzel County, WV