We found the local Dog Guard dealer serving your area.
Dog Guard of Central Massachusetts
Website: https://www.idealdogfences.com
Phone: (978) 512-1924
Email: info@idealdogfences.com
Owner: Pitre, Brian & Julia
47 Partridge St., Gardner, MA 01440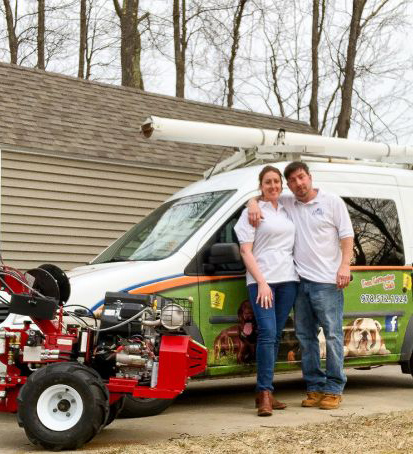 We are Brian & Julia Pitre, owners and authorized dealer for Dog Guard Out of Sight Fencing located in Gardner, Massachusetts. We were inspired to join the nationwide Dog Guard family because of our love for animals and the belief that they should be able to enjoy the outdoors, untethered and safely. Our goal is to bring this experience to your pets so they can run freely and you'll have peace of mind knowing they are safe. After all a dog that can run free is a happier & healthier dog!
Our mission is to provide you and your pets a top of the line, quality out of sight containment system along with exceptional customer service. We will treat you like we would want to be treated from the initial contact, sale, installation, dog training and support long after the initial sale. We will tell you the truth and treat you the way you should be treated: as a friend and valued customer.
Dog Guard Headquarters supplies quality products that offer several advantages over their competitors. Their dealers are knowledgeable, efficient and always go above and beyond. Dog Guard dealers are specially trained in the installation, maintenance and use of all their products. They train us how to help you, your family and your beloved pets get the most out of your Dog Guard experience.
Contact Us
Serving the following areas:
Franklin County, MA
Middlesex County, MA
Norfolk County, MA
Suffolk County, MA
Worcester County, MA
Cheshire County, NH